SOSV Cross-Border Entrepreneurship | 8X8 Speaker Series Fall 2021
8 speakers, 8 minutes each, on war stories from cross-border entrepreneurship
Twice a year, SOSV invites 8 battle-hardened tech veterans to share the war stories they never told before.
The hybrid event will be held online along with in-person networking parties in Shanghai and Taipei. Join us to network with the speakers and get the first look at Chinaccelerator 20 cohort.
Speakers
Sharmin Ali, Founder and CEO of Instoried
After exiting from her first startup in the media space, Sharmin started Instoried 2.5 years ago to help marketers add empathy into marketing communication using AI. An electronics engineer by profession, Sharmin has 10 years of enterprise sales experience resulting in over $100M in ARR.
Jessica Gleeson, CEO of BrighterBeauty
Jessica Gleeson, CEO of BrighterBeauty, is an experienced international executive with a passion for building and scaling brands. A 20-year veteran of Starbucks, Jessica held a variety of leadership roles as the company grew from 50 stores in the US to 55 countries globally. This included Starbucks' original market entry into China and initial expansion in the Asia-Pacific region. Driven by her fascination with the rapidly changing retail landscape, Jessica relocated to China and helped grow three iconic brands – Starbucks, The Walt Disney Company and Claire's Accessories.
Wei Hopeman, Co-Founder and Managing Partner, Arbor Ventures
Wei Hopeman is a global financial leader with 25+ years of experience spanning the Silicon Valley, Greater China and Southeast Asia. Wei was named to the Top 38 FinTech Influencers in Asia, the FinTech Asia 100 and the AlwaysOn Power Players in FinTech. Wei is the Co-founder and Managing Partner of Arbor Ventures, the first and largest Asia based FinTech venture fund, focused on investing in disruptive companies at the intersection of financial services, digital commerce and big data globally. Prior to Arbor, Wei was Managing Director and Head of Asia at Citi Ventures and held previous roles at Jefferies & Co. and Goldman Sachs.
Wayne Huang, Co-Founder and CEO of XREX Inc.
Dr. Wayne Huang is an internationally-recognized cybersecurity expert instrumental in developing innovative blockchain-based solutions currently used in several emerging markets. Prior to XREX, Wayne was Co-Founder and CEO of Armorize Technologies, successfully acquired by Proofpoint (NASDAQ: PFPT) in 2013. Wayne served as VP Engineering at Proofpoint, where he spent 5 years building and growing TAP (Targeted Attack Protection) from 0 to $350M+ in ARR, servicing 9 of the top 10 US banks, and 56 of the Fortune100.
Kapil Kane, Director of Innovation at Intel China
Kapil is Director of Innovation at Intel China, where he co-founded and now runs GrowthX, its corporate-startup accelerator.

 Over the past 20 years, he has helped design and launch world-class products and businesses at the intersection of arts, design and technology. Creator of the first multi-touch screen at Apple, Kapil went on to lead product design on iPod, MacBook, MacBook Air, iMac and eventually the iPad.
John Keh, CEO of Impakt
John Keh is the founder and CEO of Impakt as well as the founding CEO of virtual event platform Welcome . He previously headed the business intelligence team at Uber Eats US & Canada. John is the 3rd employee at high-end food delivery platform Caviar (acquired by Square and later by DoorDash for $410M).
Alicia Tung, COO at Great Place to Work ®
Arun Verma, Regional General Manager, Stealth Startup
Arun Verma is Regional General Manager at a startup in stealth mode with teams across Asia. Arun has carved out niches in travel, venture capital, e-commerce, and telecommunications holding key roles at Shopify, AirAsia and Blackberry. He has worked all over the globe, including South Africa, Malaysia, Indonesia, Singapore, and the United States.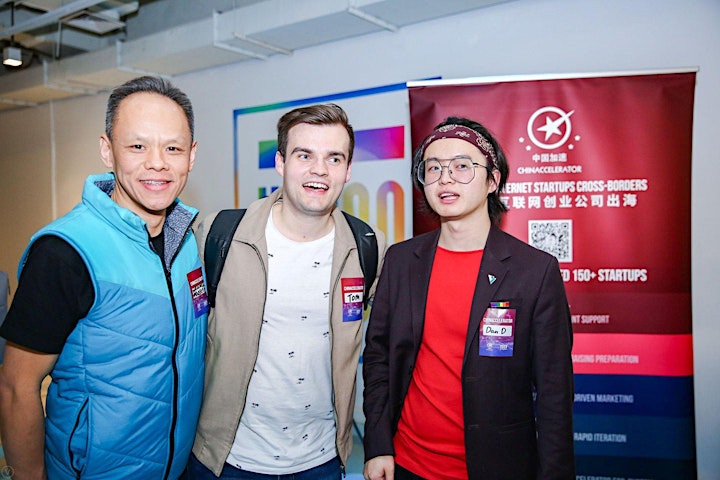 Agenda
5:30 – 6:00pm: Check-in and networking
6:00 – 6:15pm: Welcome remarks from William Bao Bean, General Partner at SOSV
6:15 – 6:30pm: Meet Chinaccelerator 20
6:30 – 7:45pm: 8 speakers, 8 minutes each
7:45pm onwards: Networking
Location
1. Online:
registered will receive a Zoom link prior to the event
2. Shanghai in-person party:
Bridge+: 上海市黄浦区九江路686号腾飞元创大厦2层
L2, Ascendas Innovation Place, No. 686 Jiu Jiang Road, Huangpu District, Shanghai. 200001
3. Taipei in-person party:
Taiwan Tech Arena (TTA): 台北市南京東路四段2號3樓
3F Staircase, No. 2號, Section 4, Nanjing East Road, Songshan District, Taipei, Taiwan
Important Notice for COVID-19 prevention: For guests attending on-site in Taipei, due to Covid restrictions as per Taiwan Government and TTA building, please ensure you wear mask at all times. If you need to drink water, please put the mask on after you finish.
如參與台北場現場活動, 請您務必全程配戴口罩。如需喝水,請您飲水完務必持續配戴口罩。
About SOSV Cross-Border Internet
SOSV Cross-Border Internet Programs (Chinaccelerator and MOX) are deeply resourced startup development programs for both enterprise-tech and consumer-tech, with over 240 corporate partners and 100M consumers in our ecosystem. SOSV has more than $1 billion in assets under management and over 1120 portfolio companies as of August 2021. The firm's internet portfolio includes crypto-product trading platform BitMEX, Google-backed AI English pronunciation assistant ELSA, Samsung-backed video publisher Flickstree, APAC's online learning platform Snapask, China's luxury brand management group UShopal, and India's largest connected healthcare ecosystem Phable.
Previous 8×8 talks (YouTube)